Company
Company
Company name

MITOKU CO., LTD

Founded

December 1 1959

Established

May 1 1969

Capital

¥10,000,000

President

Toyofumi Yoshida

Address

Head Office
Hamarikyu Intercity 1-9-1 Kaigan Minato-ku Tokyo 105-0022 Japan

Export Division
Phone:+81-3-6403-1884 Fax:+81-3-6403-1894

www.mitoku.com

Import Division
Phone:+81-3-6403-1897 Fax:+81-3-6403-1907

MITOKU online shop

Warehouse
Touun warehouse 3F 3-5-10
Kaigan Minato-ku Tokyo 108-0022 Japan
Phone:+81-3-5484-3305 Fax:+81-3-3453-2742

Main Bank

Sumitomo Mitsui Banking Corporation
Mizuho Bank, Ltd.

Affiliated Company

Business

Exporting Japanese foods, soy sauce, miso, tea, sake, vinegars, dried plum, sea vegetables, noodles, snacks and machines over 200 products in 80 categories.
-Importing and distributing certified organic soy beans and raw ingredients
-Importing and distributing certified organic foods
-Importing and distributing natural cosmetics
Greetings from our President
Mitoku has been a pioneering company in the organic foods sector in Japan, introducing traditional Japanese foods to over 40 countries worldwide and importing organic foods and cosmetics into Japan from 12 countries. Using our accumulated expertise in all things organic, we now handle a wide range of products as a specialist organic trader, from traditional foods and processed items to haircare and skincare products. More recently, we have also become involved in helping to improve the environments in which traditional food producers' works. These producers are facing serious issues relating to passing skills down to the next generation and the challenging of achieving attractive food craftmanship.
At Mitoku, we consider the creation and expansion of sales channels, both across Japan and internationally, as an important mission for us; this is our small contribution to ensuring that traditional production methods can survive and be passed down.
We are now in an age of food abundance, meaning that each of us needs to constantly evaluate the true nature of our ever-changing food landscape. The Japanese market is being impacted by a declining birthrate and an aging population, while international markets are seeing continued population growth, particularly among emerging nations. Politics, economies, and societies are experiencing agitation and upheaval at a worldwide level, and Japanese companies also need to be capable of timely and appropriate responses from a global perspective.
Going forward, our primary motivation will be continued to promote and recommend traditional Japanese foods that meet global standards to countries around the world, and to introduce to the Japanese market exceptional products from leading organic nations to the Japanese market.
We will continue to aim to achieve sustainable growth as a company by promoting and distributing attractive products across and beyond Japan.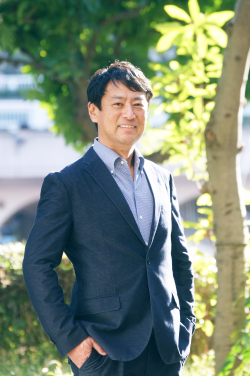 Toyofumi Yoshida
President
History
1959

Akiyoshi Kazama appointed as Japanese agent to RAVENNA GmbH, importing electrical goods, cameras, and other merchandise.

1968

Trading begins in premium quality natural and traditional foods to distribute in the US, after being introduced to Mr. Michio Kushi, leader of the international macrobiotic movement.

1969

Corporate restructuring at RAVENNA leads to the establishment of MITOKU Co.,Ltd.

1983

Corporate capital increased to 10million yen as business grows. Business headquarters moved to new office in the prestigious Marunouchi Building.

1986

Begin importing organic soybeans.

1993

Begin importing organic skincare products produced by Aubrey Organics. (USA)

1994

Move to Hibiya Park Building in Yurakucho.

1995

Expansion of skincare and food operational departments prompts the creation of an integrated sales center in Tokyo's Minato district.

1998

Product centers for all skincare and food departments unified.
Expansion and streamlining of shipping services.

2001

Mail and WEB-Order department established.

2005

Begin importing organic lip balm produced by Eco Lips. (USA)

2009

Begin importing ECOCERT certified organic cosmetics by MADARA. (Latvia)

2010

Move to a new office in Tamachi.

2011

Toyofumi Yoshida took over as president of MITOKU Co.,Ltd.

2013

Begin importing ECOCERT certified organic soaps by SDA. (France)

2018

Outsource logistics for foods in Edogawa, Tokyo.

2019

50th anniversary since 1969.

2020

We gratefully received the Minister of Agriculture, Forestry and Fisheries Award as an "excellent business operator working on exports in 2020".

2022

Along with business expansion the head office was relocated to Hamarikyu Intercity.